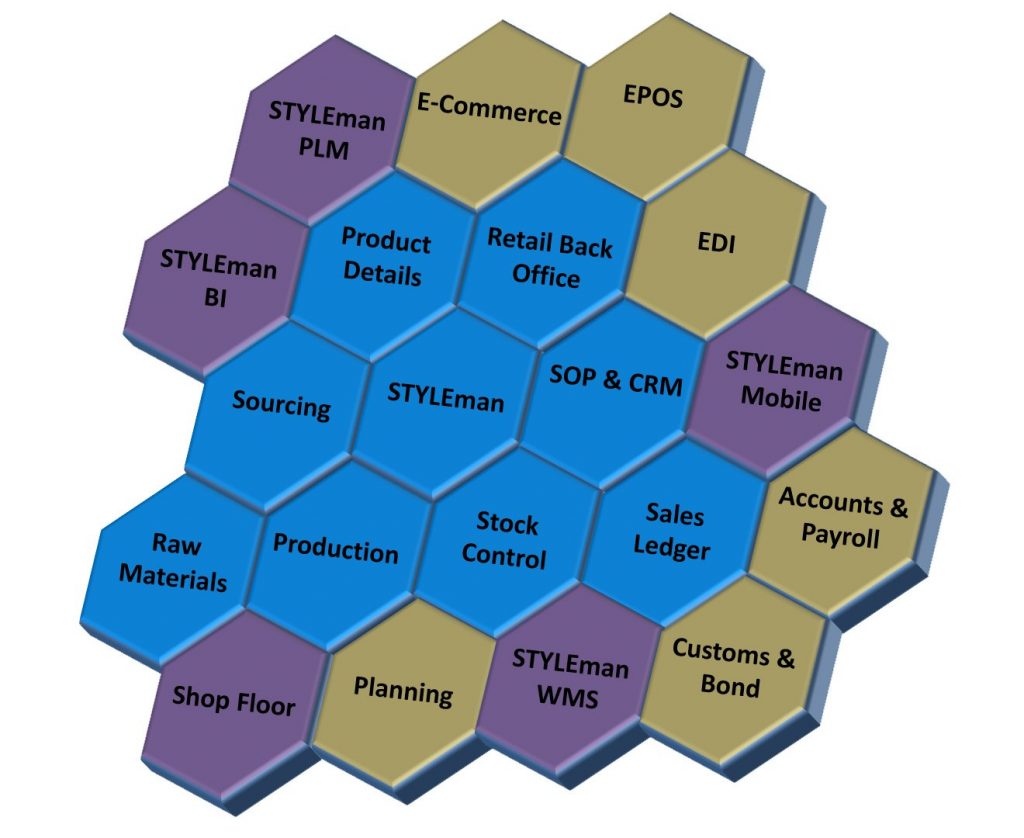 STYLEman365 Overview
STYLEman365 represents the fifth generation of our well-regarded STYLEman application software for apparel and footwear businesses. STYLEman365 is available both as an on premise application (hosted on a server at your offices) or as a fully cloud-based solution. In either case it can be accessed from anywhere, naturally subject to appropriate security, a key requirement for today's "work anywhere" culture.
STYLEman365 retains the business logic and database of the latest version of STYLEman, but changes the user interface to be fully browser-based, to allow cloud implementations. By retaining the business logic, the robustness and proven capability of STYLEman is retained, whilst simplifying the upgrade and training required.
STYLEman365 is a multi-lingual application, and supplied with translation tools for you to translate it into the target languages you need. This facility also allows you to adapt the system's terminology to match your business, should that terminology vary from industry norms.
STYLEman365 Demo
If you'd like a personalised product demonstration for your chosen STYLEman365 product(s) then please click below.
STYLEman ERP
At the heart of our product set is STYLEman365 ERP, which manages the sourcing, stock and sales of styles (the blue tiles in the diagram). Around this we have the other members of the STYLEman365 family (the purple tiles) , and around these core modules we have integrated a number of third party products in order to offer a complete, integrated, best-of-breed solution.
STYLEman PLM
STYLEman365 PLM covers the typical functionality required for product development, including Costing, Quotations, Bills of Material and Labour, Lab Testing, Grading and Fit Sessions. At the heart of the collaborative system are Critical Paths to manage the whole process. Once styles are approved, all the details are passed seamlessly to STYLEman365 ERP to manage the commercial activities.
Product Details
STYLEman365 ERP acts as a PIM (Product Information Master) for all the style information, which can be shared across wholesale, retail and e-commerce systems. The style repository can include:
Style Master details
Multiple Style images
Bill of Materials
Bill of Labour (operations)
Costings
Purchase Prices
Selling Prices
Packs
Customer Product references
Supplier Product references
Marketing Information
Attachments
STYLEman365 B2B – Business-to-Business e-Commerce
STYLEman365 B2B extends the functionality of STYLEman365 ERP to mobile devices. The application enables customers to become self-serving for catalogues, order entry, stock availability, and to perform order and account enquiries. The application is also appropriate for field sales staff, agents and distributors.
STYLEman365 B2S – Business-to-Supplier e-Commerce
STYLEman365 B2S allows suppliers to confirm, track and ship Purchase Orders, providing costing details, critical path updates and shipment details electronically to reduce the administrative burden.
Sourcing
STYLEman365 ERP has a variety of sourcing methods for buying styles, including Purchase Orders (regular, and Bulk/Call Off, for finished products and raw materials), CMT orders where some components (typically fabrics) are being supplied, and Production Orders for companies who have their own manufacturing facilities. In addition, two types of processing order are supported for cost or value add, either internally or at third party facilities.
STYLEman WMS – Warehouse Management System
STYLEman365 WMS is a Wi-Fi scanner-based WMS system available for full real-time stock management, including the ability to perform single-pass pick and pack operations, as well as parallel picking of multiple small e-commerce orders. Perpetual Inventory counting is also supported to avoid warehouse downtime for periodic stock counting in the warehouse. All despatches can have a carton-level contents note printed, and the increased accuracy of picking and documented carton contents dramatically reduce reported shortages.
SOP & CRM – Sales Order Processing & Customer Relationship Management
STYLEman365 ERP has a multi-channel ordering system, consolidating demand for product from Retail, Concession, e-Commerce, Franchises, Agents, Distributors and Wholesalers into a single stream that can be prioritised according to your business objectives.
STYLEman365 BI – Business Intelligence
STYLEman365 ERP has a Business Intelligence (BI) module that is supplied with a standard dashboard covering a number of business KPIs. The supplied dashboard can either be used as-is, or the Dashboard designer tool used to customise the dashboards to your requirements. Dashboards can be shared and published for others to consume, and include not just information from STYLEman, but also from other systems and even spreadsheets.
Raw Materials
STYLEman365 ERP has a full Raw Materials management module, covering MRP, Purchasing, Stock Control, Issues and Consumption. Raw Materials can be managed on a "total" basis, or by "lot" so that similar items are used on a production order. Facilities are available to allocate Fabric by dye lot and width to optimise cutting.
STYLEman365 APIs – Application Program Interfaces
STYLEman365 APIs are designed to get data into and out of STYLEman365 applications, for data imports (for example, bulk creation of products) exports (for example, reporting) as well as interfaces to supported third party applications.
Production
STYLEman365 ERP has a full Production module for companies having their own manufacturing facilities. Production Orders can be progressed through key operations, and are typically linked to a bundle tracking and shop floor data collection system.
EPOS Retail
STYLEman365 includes software to manage backroom Retail transactions, and can integrate into third party EPOS systems such as Eurostop, Bleep, Retail Express etc. Sales, returns, transfers and adjustments are mirrored in STYLEman365 to give a single view of stock in the business. Full sales analysis by product, store and employee along with stock cover and sell through reporting is available.
Retail Back Office
STYLEman365 ERP can give you a complete overview of your stock in your shops, concessions, warehouses and even inventory at processors. It achieves this by mirroring retail stock from POS systems and concessions into the database, to help you deploy your inventory in the optimum way.
Planning
STYLEman365 ERP can integrate into visual planning systems such as Preactor, passing production orders into the system for scheduling and posting back revisions to the schedule into STYLEman365.
Sales Ledger (Accounts Receivable)
STYLEman365 ERP has its own Sales Ledger (Accounts Receivable) to manage customer accounts. This allows the system to do automated Credit Control, as well as pro-forma invoicing (for a designated percentage of the order value). The system is fully multi-currency and has the sophistication to manage both independents and major High Street chains.
EDI – Electronic Data Interface
STYLEman365 ERP typically uses an EDI gateway to manage the mapping of EDI documents, and it incorporates standard data import and export formats that simplify the customer on-boarding process.
Customs & Bond
For companies requiring just-in-time clearance of bonded stock to defer duty payments, STYLEman365 ERP is integrated into Langdon's Customs and Bond management system.
Accounts & Payroll
STYLEman365 ERP includes a Sales Ledger with comprehensive credit control facilities. For Purchase and Nominal Ledgers (Accounts Payable and General Ledgers), as well as other accounting functions, STYLEman365 ERP interfaces into third party accounting packages. These include our preferred solution, OpenAccounts from ABS, as well as Sun Accounts, Sage, Xero, Coda, Access Dimensions and SAP Business One.

Can't find what you're looking for?
Feel free to contact us directly for additional information and sales queries at:
We are open from 9 am to 5:30 pm Mon-Fri